This month, we shared via our various social media accounts on Facebook, Instagram and Twitter different ways individuals, groups or businesses can serve in our ministry. Below is a recap of those opportunities in case social media isn't your thing. Please feel free to share these opportunities with others as the Lord leads and to contact us for further information if you have any questions.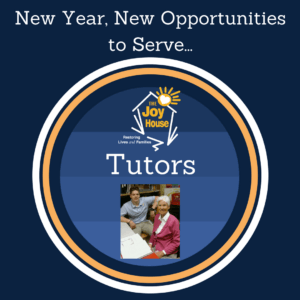 TUTORS: 
The Joy House Academy, where our resident teens attend school year-round, is typically always in need of tutors for middle and high school level studies. Tutors spend one-on-one time with the student, reviewing study guides and going over concepts to help the student successfully complete their materials. The JHA is in session year-round, Monday-Friday, from 9:30A-3:30P, apart from school breaks, which provides many opportunities for tutors to come in, as their schedule permits, and make a difference in our residents' education. If you are interested in receiving further information about our current need for tutors, please contact our Education Director, Ron Rucker, via e-mail at ron@thejoyhouse.org. We currently have a particular need for General Science and Chemistry tutors.
LANDSCAPING: Do you have a green thumb or enjoy cutting grass? Are you handy with a hedge clipper? With The Joy House campus being over 30 acres, we have plenty of space for you to "play in the dirt again" and pitch in on the yard work. Some people come individually to assist with this need or there is also the option to make it a group workday project. We have all the equipment necessary to get the job done. If this would be an area of interest to you our your group to volunteer for, please contact Richard Metcalf via e-mail at richardm247@yahoo.com or via phone at 404-797-3693. Thank you!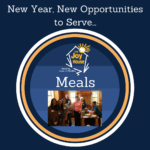 MEALS: One of the favorite ways individuals like to serve in a "hands-on" way for a ministry is by providing supper to one of our homes or by providing a lunch meal for our students at the Joy House Academy. This provides a wonderful opportunity for the community to provide a very real need for our residents and enjoy a time of fellowship together. If this is something you would enjoy being a part of, please contact Ali Metcalf at alison@thejoyhouse.org to schedule a meal. Thank you!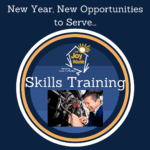 SKILLS TRAINING: Do you have a skill you would be willing to share with our residents? Maybe you are really good with autos, woodworking, painting or crafts. Perhaps you have a tried and true recipe you could make with your eyes closed. Our residents would love to learn from you! If you would be willing to share your skill with our teens, please contact Ali Metcalf via e-mail at alison@thejoyhouse.org or phone at 706.253.7569 to set something up. Thank you!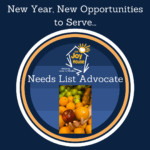 NEEDS LIST ADVOCATE: Our website always has a "Current Needs List" available online for those who wish to donate specific items to our ministry. It is located at https://thejoyhouse.org/current-needs/ and a link to this list is also included in our monthly E-News. We encourage you to visit this list from time to time if you are interested in meeting a tangible need and to share this list with your friends, neighbors and organizations that may be interested in supporting us.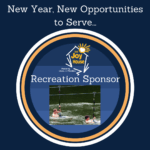 RECREATION SPONSOR: Our teens primarily live on campus, going home to their guardians every other weekend, which provides a lot of time at the Joy House for recreation. We are seeking sponsors who would be willing to donate specifically towards a recreation fund with the goal of raising $1,200 per home for the year. This would allow our houseparents to regularly seek opportunities to take their residents on special outings. Perhaps you have another recreation idea that you would like to suggest, please feel free to share. If you are interested in helping us meet this need, please contact Ali via e-mail at alison@thejoyhouse.org or phone at 706-253-7569. All donations would be tax deductible.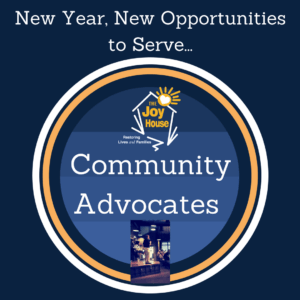 COMMUNITY ADVOCATES: Do you have a church, business, organization or group you are a part of that would be willing to let the Joy House come and share our story with them? Sharing what the Joy House is all about is one of the greatest ways for us to make our services known to the community. You may have a friend, church member or coworker that would be blessed by what our Counseling Center or Teen Residential Program have to offer. There may be a window of opportunity you know of, and if so, please consider sharing the option of us coming to share our calling this year. Contact Ali Metcalf via e-mail at alison@thejoyhouse.org for further information or you may call the office at 706.253.7569. This is one of the many ways you can make a difference in our ministry this year.