The Joy House raised over $65,000 on April 17 at their Annual Banquet held at The Mill at SharpTop Cove
On Tuesday, April 17, 2018, over 450 people from various communities gathered together to celebrate The Joy House at its annual banquet. Founded by Pickens County native Steve Lowe, The Joy House is a local non-profit that has provided Christ-centered restorative care for struggling teens, families, and individuals since 2001.
The weather was perfect as guests made their way to SharpTop Cove—a Young Life Camp to enjoy hors d-oeuvres on the grounds prior to the program's beginning inside The Mill at 6:30 p.m.  Entertained by beautiful piano music played by a talented Joy House resident, Christina, guests enjoyed a delicious spread served by Joy House residents and local high school volunteers.
After dinner, guests learned about the various aspects of the Joy House program. The program began with moving videos and testimonies highlighting the ministry's comprehensive teen residential program and their community Christian counseling center, open to all ages. The Counseling Center serves approximately 200 individuals a year out of their offices in Jasper, Ellijay, and Woodstock.
Via video, many glowing counseling center testimonies were offered. Following the video, Dr. Garry Barber, the Director of the Counseling Center, shared the singular mission of both the Counseling Center and the residential program: to ultimately be Christ-centered.
Next, the Joy House Academy was featured. The academy is the fully accredited, private Christian school on campus that the teen residential-program residents attend year-round. Robin Whitaker, the classroom teacher, shared with the guests what a typical day at school looks like. While she loved teaching English at Cherokee High School for 30 years, she shared that she thoroughly enjoys working and teaching now in an environment that feels like a "bubble of love." Joy House Academy Education Director Ron Rucker recognized the contribution of the stellar tutors toward creating this bubble.  Including a former employee of NASA and an IBM executive, these tutors volunteer their time to help students understand all levels of math, science, English, and social studies. Students at the academy not only learn the required subjects, but also have the opportunity to take exciting electives. On the centerpiece of each table at the banquet was a bird created on a 3-D printer by Academy students who were taught 3D Computer Aided Design by Pete Payne, a retired technology professor at Dekalb College Atlanta.
Partners with the Ministry, including well-known community leaders such as Don Boggus and Don Russell, came together to create a "Partner Video" to share why they have chosen to serve this ministry with their support. Joy House Board Chairman Kip Wilbanks stated, "I'm all about purpose, and I think people like to make a difference and with the Joy House you can make an eternal difference in people's lives."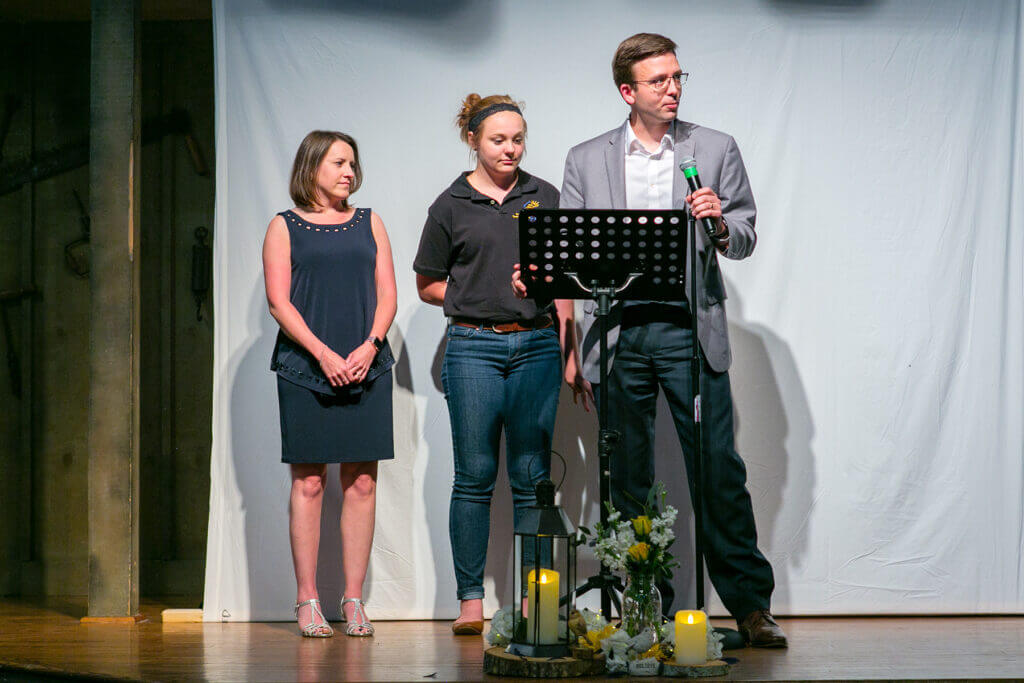 The highlight of the evening was the testimony of one of the families currently enrolled in the Teen Residential Program. Simply, they said, the Joy House has changed their lives. "Because of this Academy, and because of the care and help from the tutors who spend countless hours of one-on-one time with these kids, [our daughter] is planning on going to college to study nursing." The resident herself stated that her counselor at The Joy House "has had a huge impact on [her] life just in the last year. [She has] learned countless skills from him that [she] will apply to the rest of [her] life." In conclusion, they stated, "So today, after working with the Joy House for 15 months, our family dynamics look a bit different. We have deeper conversations at home, we pray together, we are focused as a family on God's plan for us. We were able to be constructive and uplifting to each other. We've learned to forgive better." The guests celebrated this restoration with a standing ovation.
The Joy House is so thankful for the $65,000 raised at this banquet to support their operational funds and to contribute to building a third residential home on their property. If you would like to be a part of this ministry, you may donate by clicking here or by sending a check via mail to P.O Box 247, Jasper, GA 30143.  For more highlights from the banquet, click here to visit their Facebook page.  For more information about The Joy House, please click here to visit their website; e-mail info@thejoyhouse.org; OR call 706.253.7569.