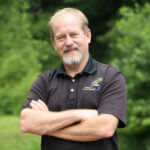 By: Steve Lowe, Executive Director
I have great news to share with our community. The Joy House ministry has been blessed with an opportunity that we believe will allow us to meet our goal to begin construction on our second girl's home for at-risk teenagers to be located on our beautiful campus in Jasper. We have been hovering around $495,000 in donations towards our  "2nd Home for 2nd Chances Campaign." I am grateful to each one of you who have given over the past several months to move us this far in our campaign. As we have shared, we need to reach $600,000 in order to have all the funds to build the home. The Lord has provided an incredible opportunity that will move us to our goal of $600,000. An anonymous donor who is ready to see this home become a reality for the teen girls in need has agreed to do a 2 for 1 match up to $40,000 and they will match it with $80,000 giving us an additional $120,000 that will push us past our $600,000 goal and allow us to begin preparation to build the home. This match has already boosted our funds raised to $531,000 in just a week.  
From July 15th to October 1st we are seeking to raise the full additional $40,000 toward our new girl's home. That is 40 partners at $1000, 80 at $500 or 400 at $100. This is doable! This is money we need to realize outside of our normal operations. The summer and early fall months are typically some of our tightest months operationally, so we do not want to experience a shortfall there. Will you prayerfully consider an investment to help us reach this $40,000 goal by October 1st?
You can go online at thejoyhouse.org and Give Today or you can mail a check. To mail a check simply note in the memo line "2nd Home for 2nd Chances" and mail to The Joy House – PO Box 247 – Jasper, GA 30143. You can keep up with our progress on our website and Facebook page. To get an update on our website simply scroll down the front page.
Additionally, we are asking you to consider the following opportunities…
Pray with us that God would provide the funding in His perfect timing and ask others to join with you in this prayer.

Is there a church, business or organization you have a relationship with that might be interested in partnering with us for this campaign? We would love to share our story with them!

Would you be willing to host a "Fill a House to Build a House" spare change campaign with your small group, Sunday School class or business colleagues? We'd be glad to help you coordinate this!

Have you personally shared with your friends and family members about why The Joy House ministry is important to you and encouraged them to join us on our mission? Social media is a great avenue for easily sharing about our ministry with your friends.

Thank you so much for your consideration! Please join us in praying for the Lord to move on hearts to meet this goal. Girls are waiting, and you can be a part of the reason we can open our hearts and doors to them and their families.