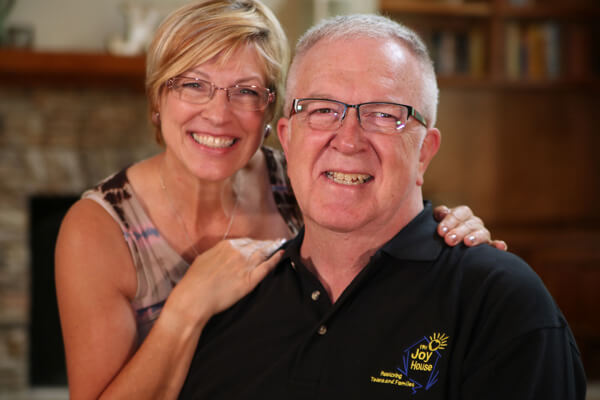 By: Bill Sherry, Girl's Home Houseparent
Recently our daughter and grandsons, ages 3 and 5 and granddaughter 15 months, visited. A highly anticipated event on our agenda was fishing at the small pond located on the Joy House property. While I (papaw to the grandchildren) have 4 tackle boxes of various lures and hooks, they were all in Pennsylvania at one of my sons. This necessitated a trip to Wal-Mart Saturday afternoon for the latest in fishing gear for each of the boys. I was not aware that either the Ninja Turtles or Spiderman was interested fishing until the boys saw them on the cleverly designed package. They quickly became a very important part of our upcoming fishing adventure. That evening we decided to picnic at the pavilion located beside the pond with our neighbors and their children ages 3 and 6. Our youngest grandson, Jackson, "fished" for about 3 minutes and then began to forage for food at the picnic table never to be seen near the pond again. Lucas was determined. Unfortunately, Papaw did not have the correct size hooks (little). Big hooks = No Fish. Little hooks = Many (little) fish. No matter what we put on the hook, Moby Dick was not to be found. Lucas did not catch a fish the entire evening. I had failed as a grandfather.
While the neighbors were catching many fish and having a great fishing experience, so was Lucas. He was totally delighted with every fish caught. To be able to touch it. To help get it back in the pond. To be with other boys and girls having fun. It wasn't all about him. It was about them! Not one time did he ever give me a disappointing look or say anything negative about my fishing prowess. It wasn't about the catching; it was about the fishing. He was making and enjoying new friends.
Determined to redeem myself as a grandfather (and a fisherman) no pride here, Lucas and I returned to the pond Sunday evening. My efforts had been rekindled and tackle upgraded to provide a more positive "catching" experience. I had given the Ninja Turtles a small hook while trusting Spiderman to find Moby Dick. Lucas (and the Ninja Turtles) had barely wet their line and he had his first bluegill. As we were about to remove the hook Spiderman went sliding across the dock. Papaw saved him from Moby Dick. Lucas then proceeded to land a 12″ catfish. The evening netted 12-15 bluegills and sunfish and Moby Dick. I was redeemed as a grandfather.
As Lucas and I started walking back to the house he was holding my hand, he looked up and said, "I wish my daddy would be here with us." I have thought back to those simple yet profound words many times over the past few days. They were not any judgment on me in any way. They did not discount the joyful experience we had. They spoke to the importance of the relationship of a little boy to his father. He wanted his daddy to experience his joy and share his fun!
My children are all adults now. I have come to realize that receiving a phone call or a letter is one of my greatest joys. They have thought of me and invited me into their life if but for a moment. To experience their joy and share their fun.
I find it strange that as I get older, I often recall the lessons and words of wisdom shared by my father. May sound silly but "I wish my daddy would be here." I would like to share my joy with him. I have heard truth from the heart of a 5-year-old. What we say and what we do with our children speaks to their hearts and to their future. As I watch my children parent, I see my past relationship with them in many ways. As I remember my father, I often ponder, "is that who I am becoming?" I have come to realize that my role continues whether my children are 5 or 35. I will never quit being a father. What a privilege and awesome responsibility.
I am still learning to be a grandfather and to be a father. But for now, Papaw is back on top.
When you get a card or a call from one of your children, listen carefully. Maybe they're saying, "I wish my daddy would be here with us". It's okay to smile and perhaps shed a tear. And then next week call them. Let them know that "Daddy's here!"
"Children's children are a crown to the aged,
and parents are the pride of their children."
Proverbs 17:6
Bill
Bill Sherry and his wife, Jane, became our Girl's Home Houseparents at The Joy House in 2017.